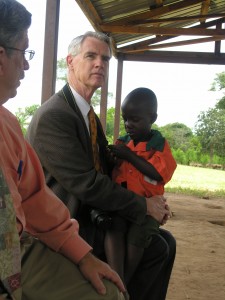 The primary focus of our external missions, both here and abroad, has been pastor/teacher training and discipleship. Pastors Jim and David have taken numerous trips overseas, preaching the Word and ministering to local church leaders.
Uganda
In Uganda, we work with Pastor Joel Bukenya of Blessed Hope Orphanage.

Our pastors and church members teach at the orphanage and within a network of Ugandan pastors. The local churches also send supplies and contribute to ongoing projects at the orphanage throughout the year.   See more photos.
Israel
In addition, every 4-5 years our church takes members to Israel, to study Scripture as they tour the Holy Land.  (Photos below.)
Missions Photo Albums: Click to open an album or see a bigger picture.
Error: the communication with Picasa Web Albums didn't go as expected. Here's what Picasa Web Albums said:
404.
The requested URL /data/feed/api/user/emmanueltxgallery?kind=album was not found on this server.